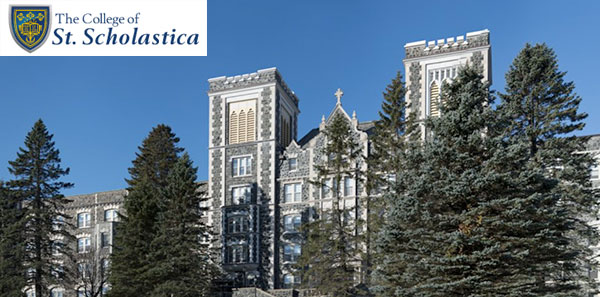 The College of St Scholastica is the second Catholic Benedictine school to enter Arizona in the past few years. Originally founded over 100 years ago in Duluth, MN, The College of St. Scholastica is renowned for upholding the Catholic Benedictine values of community, hospitality, respect, stewardship and love of learning. St Scholastica currently has 9 campus locations (8 in Minnesota) and offers online college courses at the undergraduate and graduate level. Other campus locations include Duluth, MN (Main Campus), St. Paul, St. Cloud, Rochester, Brainerd, Inver Grove Heights, Grand Rapids and Cloquet, MN.
Community College Partners
Partnering with Phoenix Community Colleges and other state and private Universities, The College of St. Scholastica opened its Arizona campus in January, 2014 as a partner in the Communiversity center located in Surprise, AZ. The Communiversity seeks to offer college students the ability to earn college credits from local community colleges, and easily transfer them to university parters in the same location. This makes taking college courses affordable and convenient. For example, a student in health information technology can complete their lower division undergraduate coursework – and earn an associates degree – from a local community college, then transfer credits to the College of St. Scholastica to complete their B.S. degree in health information management (HIM). Other Communiversity partners include members of the Maricopa County Community College District (MCCCD) system – Glendale Community College, Ottawa University, Northern Arizona University, Phoenix College and Rio Salado College. This partnership provides great value to students and those paying for college. For example, students who take college courses at a community college pay just $84 per credit hour. Compare this to private college tuition which may cost over $600 per credit hour, and the savings really ads up. Students have the opportunity to save tens of thousands of dollars by transferring credits from community colleges or other partners (like Straighterline). This will reduce their future debt, and enhance their opportunities for a higher quality life.
Health Information Management Degree
With growth in health information technology jobs and other medical records careers, many colleges and universities have started offering degrees in health information management. St Scholastica was one of the first christian colleges in america to offer a degree in the health information management field, first offering their degree in 1934. In partnership with Community Colleges in Phoenix, St Scholastica will accept community college transfer credits for new students in the health information management degree program. This will enable students living near West Phoenix or Mesa to attend college close to home, and earn credits at a far discounted rate before transferring to the College of St Scholastica to finish their degree. Students interested in careers in health information technology, health information management, health informatics and health administration should speak with a counselor at their community college of choice to ensure they take the necessary prerequisites for the BS in Health Information Management.
Health Information Management (HIM) Courses
Vertebrate Anatomy and Physiology with a lab
Introductory computer course
Managing Human Resources (HIM 3311)
US Health Care System (HSC 2203)
Fundamentals of (HIM 2112)
Medical Language (HIM 2101)
Pharmacotherapeutics (HIM 2102)
Medicolegal Issues (HIM 3132)
Classification of Health Data: ICD-9-CM (HIM 3211)
Clinical Quality Management (HIM 4231)
Ambulatory Reimbursement Systems: CPT (HIM 4232)
Directed Practice Internship (HIM 4520)
College of St Scholastica Online Programs
Undergraduate Online Programs

B.A. Management
B.A. Marketing
B.A. Organizational Behavior
B.A./B.S. Computer Science/Computer Information Systems
B.S. Health Information Management
B.A. Social Work
RN to BSN (Online Nursing Track)

Masters Programs Online

Rural Healthcare MBA
M.A. IT Leadership
M.S. Health Information Management
M.S. Health Informatics
M.S. Project Management
Transitional Doctor of Physical Therapy

Online Certificate Programs

Education Certificates in Phoenix

Educational Technology
Online Instruction
Certificate in Literacy Instruction
Certificate in Culturally Responsive Pedagogy

Health Information Management Certificate in Phoenix

Healthcare Informatics
Health Information Management and Exchange

Nursing Certificates in Phoenix
Project Management Certificate in Phoenix

Master Certificate in Project Management
Master Certificate in Advanced Project Management
Contact College of St Scholastica
The College of St Scholastica address:
15950 N Civic Center Plaza
Surprise, AZ 85374
Communiversity @ Surprise:
Local: (480) 384-9995
Admissions: (866) 478-9277