Quick Links: NCU Learner Portal | Save on Textbooks | Accreditation
Northcentral University Mission Statement
Northcentral University is a leader among private universities in distance learning methodologies to provide adult learners throughout the world with opportunities to earn bachelor's, master's and doctoral degrees in recognized academic programs. NCU's learner portal and powerful academic model enables students to acquire important competencies and to apply the knowledge and skills needed to participate and function effectively in modern society. Whether you're a current Northcentral student, an NCU Aumnus, or future student, this page serves to provide more information about Northcentral University, along with important links to the NCU Learner Portal, information on textbooks, and more.
Since 1997, Northcentral University offers a flexible one-to-one teaching model for degree programs in Business and Technology Management, Psychology, and Education. With today's demands for time for jobs, families, and downtime, obtaining a bachelor's, master's, or doctoral degree in an online, distance learning format with no residency requirements may be the best way for you to gain a higher education. The World Headquarters for NCU are located in Prescott Valley , Arizona. NCU learners come from the USA and many other countries throughout the world.
NCU Bookstore – Save on Textbooks
Save money on text books via Amazon and other third party book sellers! Some students may prefer the convenience of e-books while others choose the traditional feel, smell, and look of a traditional textbook. In many cases, certain textbooks are required but may cost $20-$35 or more in the University bookstore. Don't pay extra bookstore markup on your NCU textbooks – check out these price comparisons and shop textbooks on Amazon (search by book title or ISBN number). Like these prices (us too!)? But save even more with Amazon Prime (free expedited shipping and more!). Tip: Don't see your book in the list below? Type the title into the textbook search box and get ready to save!
Try Amazon Prime 30-Day Free Trial
Northcentral – NCU Learner Portal Login
The NCU Learner Portal, or Northcentral University Login, provides NCU students with a wide range of academic services and is the student's central portal for all things NCU! According to one Northcentral University Faculty member, "Students can access their coursework, find resources at the library, view their course plan and interface with a (faculty) mentor."
With access to the learner portal at NCU, students can:
Pay tuition online
Access your course syllabus and NCU learning materials during your current course
Contact your Faculty (and faculty mentors), Academic Advisors & even other University staff
Chat with other students through chat rooms or discussion forums
Access bookstore, NCU library & Online writing programs
Access online course rooms and submit completed assignments
Access assignment grades and other faculty reviews of your assignments
Access a variety of academic support services
Login securely at ncu.edu: NCU Learner Portal Login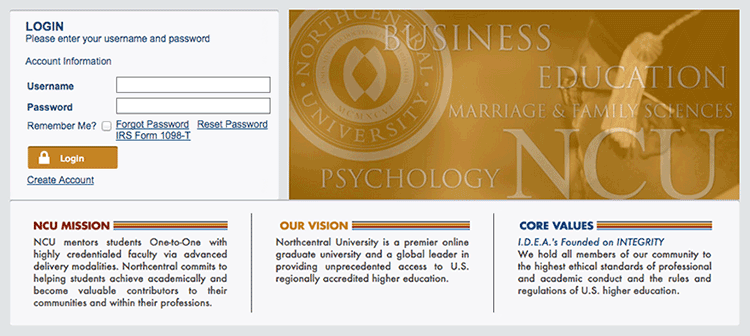 Masters in Education Courses
Other helpful resources for students:
Northcentral University Accreditation
Northcentral University is accredited by The Higher Learning Commission, a commission of the North Central Association of Colleges and Schools. Northcentral University is accredited by the Association of Collegiate Business Schools and Programs – ACBSP, the premier accrediting association for business schools and programs with a focus on teaching excellence. ACBSP is recognized by the Council on Higher Education Accreditation (CHEA).
Benefits of Attending NCU
If you are an adult learner seeking to advance professionally, balance personal life with education and career, and achieve your dreams, Northcentral University is the school for you. NCU is outstanding among premier accredited online universities and provides academically challenging and life enriching graduate and undergraduate degree programs in business and technology management, education, and psychology.
Many accredited online universities mandate weekly attendance, campus residency, and rigid, inflexible program requirements and term schedules. Not NCU! We create a unique one-to-one teaching model just for you, allowing you to pursue professional interests beneficial to your career, receive personalized guidance from Faculty Mentors, and schedule learning at your own pace to suit your busy lifestyle. The NCU Learner Portal serves as the online hub for your course activities. Check out the benefits of attending Northcentral University, one of America 's premier accredited online universities, at www.ncu.edu.