Quick Links: GCU Mission | GCU Address | GCU Population |GCU Majors | GCU Bookstore |
Founded in 1949, Grand Canyon University (GCU) is a private, Christian university located in Phoenix, Arizona, and has been regionally accredited since 1968 by the Commission on Institutions of Higher Education, North Central Association of Colleges and Schools. GCU offers bachelor, master and doctoral degree programs to traditional, professional, and online students through several colleges including: Colangelo College of Business, College of Nursing, College of Education, College of Nursing and Health Care Professions, College of Theology and College of Fine Arts and Production. At the turn of the century, the University moved away from being owned and operated by the Arizona Southern Baptists Convention to being independently owned by a private Board of Trustees.

GCU Mission Statement
Grand Canyon University prepares learners to become global citizens, critical thinkers, effective communicators and responsible leaders by providing an academically challenging, values-based curriculum from the context of our Christian heritage. [GCU Mission Statement (More)…]

GCU Faculty Portal
The GCU Faculty Portal is part of the Learning Management System (LMS) at Grand Canyon University. GCU Faculty will use the Faculty Portal to engage in class (4 or 5 times per week), submit grades, and read student communications and answers to discussion questions (DQ). The GCU Faculty Portal is not the same platform as the MRC which you may also hear about from time to time. The MRC (My Resource Center) is an employee portal for faculty and other administrative staff of the university to use to manage personal information such as one's mailing address, phone and email address as well as other faculty employment related information. The primary system faculty use on a day to day basis will be the GCU Faculty Portal!
Go to the: GCU Faculty Portal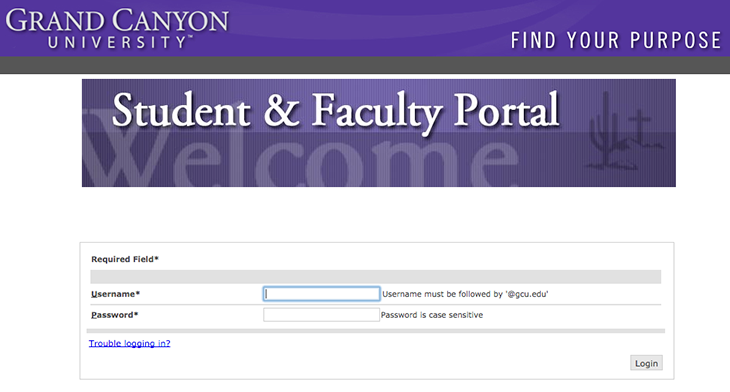 GCU Address
Grand Canyon University's main campus is located in West Phoenix but the majority of GCU students attend online from around the United States and Canada. In addition to GCU's main campus, Grand Canyon University opened a learning center in Albuquerque, New Mexico primarily in support of their nursing degree programs in that area. GCU also offers evening and professional "cohort programs" in a variety of locations, usually on a colocation (shared space) basis. Cohort classes may be held at hospitals, businesses, school district offices, or other convenient locations. See a comprehensive list of all GCU addresses below:
Grand Canyon University Address
3300 W Camelback Rd
Phoenix, AZ 85017 (Map)
Phone: 602-639-7500
http://www.gcu.edu
Grand Canyon University Marketing, Administration and Call Center
5115 N 27th Ave
Phoenix, AZ 85017 (Map)
GCU Online, Administration Office – Phoenix, AZ
North 23rd Avenue
Phoenix, AZ 85029 (Map)
Phone: 877-860-3951
http://www.gcu.edu
GCU Online, Administration Office – Tempe, AZ
1150 West Grove Parkway
Tempe, AZ 85283 (Map)
GCU Population
Grand Canyon University has two distinct student populations that it serves. GCU provides bachelor, master and doctorate programs to 55,218 online students with an additional 11,000 GCU students living on campus in Phoenix, Arizona. 66% of the GCU population is comprised of traditional campus, masters or doctoral degree students, and students enrolled in the Online Bachelor of Science in Nursing program (RN to BSN).
GCU Majors
GCU offers a variety of programs to its online and traditional campus students at the bachelors, masters, and doctoral degree levels. In 2014, the University added the College of Science, Engineering and Technology, and renamed its business school to the Colangelo College of Business (formerly the Ken Blanchard College of Business). In 2015 GCU plans to add mechanical, electrical and biomedical engineering degrees to round out its STEM degree programs, and will invest heavily in its Phoenix campus adding four new 6-story residence halls, the first 80,000 square feet of 160,000-square-foot engineering building, a 50,000-square-foot general-use classroom building, a new parking garage and a new stadium for soccer, lacrosse and rugby.
GCU Athletics
In 2013, the University was invited to become part of the Western Athletic Conference (WAC) which enables it to play at the NCAA Division I level. The college hired former NBA star Dan Majerle as its head basketball coach and invested in upgrading its basketball and events arena to accommodate an additional 1,500 seats for a total capacity of 7,000 GCU fans.
When was Grand Canyon University Founded
Grand Canyon University was founded in 1949 in Prescott, AZ by the Arizona Southern Baptist Church. GCU was originally named Grand Canyon College, and was moved to its current site in West Phoenix, Arizona in 1951. The GCU campus has expanded rapidly in recent years acquiring formerly residential property adjacent to the campus to make way for new residence halls, parking garages, and classroom buildings to support its growing academic program offerings.
Who Owns Grand Canyon University?
Since its initial public offering (IPO) in 2008, Grand Canyon University is owned by shareholders of stock in its parent organization, Grand Canyon Education, Inc. It was this change in ownership and finding model that allowed GCU to enhance academic and living services to it students, and grow to the size it is today. IN October 2014, Grand Canyon University announced plans to consider transitioning back to a nonprofit status which would, among other things, reduce or eliminate their tax obligations allowing them to continue their mission of capping or cutting tuition costs for students.
GCU Bookstore

Purchase official Lopes gear! Grand Canyon University features a bookstore and GCU team shop on campus in Phoenix. Alternatively, you can shop the GCU Bookstore online! Buy your GCU clothing and GCU Gear to show your Lope spirit.